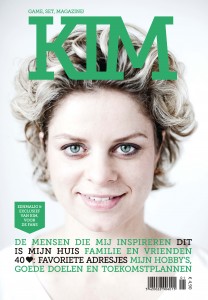 Sinds mijn laatste competitiewedstrijd op de US Open vragen heel wat mensen me of ik mijn dagen wel gevuld krijg. Het komt wellicht raar over als ik hen dan vertel dat ik het eigenlijk drukker heb dan ooit. Zelden heeft mijn agenda voller gestaan dan de voorbije twee maanden. Dit magazine zit daar voor veel tussen. Ik had nooit durven te denken dat er zo veel bij komt kijken om zoiets in elkaar te steken!   Eigenlijk wilde en zou ik er zelf niet eens veel tijd insteken. Wat ideeën en invalshoeken, daar begon het mee. Dat was ook nog redelijk eenvoudig. Tot nog toe heb ik immers zelden veel over mezelf of mijn familie willen vertellen, laat staan dat ik graag iedereen een inkijk gaf in mijn leven of mijn huis. Tijdens mijn carrière vond ik dat het over tennis moest gaan, de rest was toch privé? Ik vind dat nog steeds, maar het leek me wel een goed idee om één keer, bij mijn afscheid, met mijn fans wat persoonlijke dingen te delen. Mensen die voor mij belangrijk zijn, de zaken die me dagelijks bezighouden, leuke adresjes,…   Gaandeweg merkte ik dat ik zowat elke dag verder nadacht over dit blad, ik voelde me steeds meer betrokken, wilde nog wat extra accenten leggen, bedacht nog een onderwerp dat ik er graag zag instaan. En dan ben je vertrokken natuurlijk… Wat er allemaal bij komt kijken vooraleer zo'n idee voor een artikel helemaal is uitgewerkt, daar had ik nooit eerder bij stilgestaan. Ik ben toch wel wat gewoon op dat vlak, maar ik heb een recordaantal fotoshoots op enkele weken tijd achter de rug…   Ik ben supertevreden met het eindresultaat, best fier eigenlijk. Het ziet er zo knap en stijlvol uit, de foto's zijn schitterend, de verhalen mooi, verrassend, innemend. Ik heb zelf een aantal keer moeten slikken. Ik wil dan ook iedereen bedanken die tijd heeft gemaakt om zich te laten interviewen of voor de lens te staan. Een plaats in mijn hart hadden jullie al, nu staat het ook nog eens op papier! Proficiat ook aan al degenen die dit magazine in elkaar hebben gestoken, Kris en Gert in het bijzonder, die mij perfect gecoacht hebben als gelegenheids-hoofdredactrice. Mij hoor je niet zeggen dat ik nu iets in de media wil gaan doen, maar ik vond dit wel heel prettig om te doen. Voor één keer toch. Eens de Kim's Thank You Games gedaan zijn, kijk ik er echt naar uit om aan het gewone leven te beginnen, met mijn eigen agenda. Nu hebben jullie een klein beetje een idee hoe dat leven er ongeveer dagelijks zal uitzien.   Veel liefs,   Kim x  
Een opdracht van Kim Clijsters en Golazo Media.
Met de medewerking van Alexander Tolaro (Art Director), Dimitri Bambust (Eindredacteur) en Charlotte Arts, Hugo Camps, René Clement, Sofie Coreynen, Eric Duchateau, Pascale Damen, Sam De Kegel, Philip Hilven, Diego Franssens, Dirk Gerlo, Guy Ivens, Pascale Naessens, Juan Pacifico, Frédéric Raevens, Isolde Roels, Inge Taucher, Geoffrey Tolaro, Thomas Van de Water, Kris Van Hamme, Eva Vanhengel, Pieter Vanlommel, Marc Verachtert, Tine Verdickt en Annemie Willems.